September 5, 2019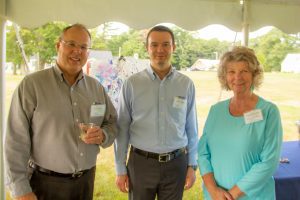 L to R: Joe Thornton, SVP and Retail Banking Officer, Franklin Savings Bank; Brian Bozak, SVP and CFO, Franklin Savings Bank; Donna Raycraft, Spaulding Youth Center Board Member. Northfield, NH – Spaulding Youth Center was excited to host a special event on its scenic Northfield, New Hampshire campus. The Friends of Spaulding Summer Celebration served as an ...
Read More
Interested in Learning More About Our Vibrant Campus?
If you are interested in an insider's view of a day in the life of Spaulding Youth Center, we recommend visiting our online photo gallery or our video gallery. These are updated weekly so keep checking back for more great Spaulding moments!