November 25, 2019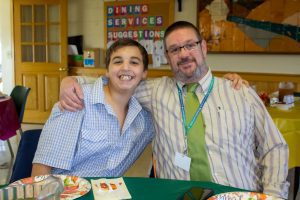 Northfield, NH – Spaulding Youth Center recently hosted their annual Thanksgiving luncheon on campus for all students, campus staff, supporters, community partners and friends.
The Spaulding Youth Center Dining Services department spent two weeks preparing for the event, which included making a traditional turkey dinner with all the trimmings. The holiday meal was then proudly served ...
Interested in Learning More About Our Vibrant Campus?
If you are interested in an insider's view of a day in the life of Spaulding Youth Center, we recommend visiting our online photo gallery or our video gallery. These are updated weekly so keep checking back for more great Spaulding moments!