March 7, 2012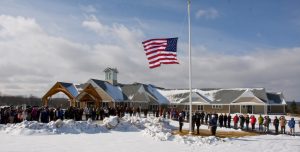 On a cold blustery Monday morning in March, the Spaulding Youth Center community gathered to celebrate the much anticipated opening of the new school building. Students accompanied by teachers, staff and friends from the Tilton-Northfield EMT and Fire Department, and escorted by the nationally renowned Tilton-Northfield American Legion Post 49 Color Guard, marched across campus ...
Read More
Interested in Learning More About Our Vibrant Campus?
If you are interested in an insider's view of a day in the life of Spaulding Academy & Family Services, we recommend visiting our online photo gallery or our video gallery. These are updated weekly so keep checking back for more great Spaulding moments!