Spaulding Youth Center Offers Students Vocational Opportunities through Partnership with Taco Bell Tilton
February 27, 2019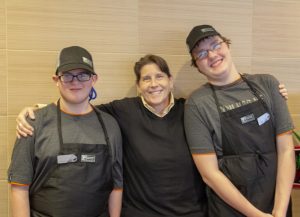 Northfield, NH – Spaulding Youth Center is pleased to announce that two students have accepted vocational opportunities through the partnership and support of Taco Bell in Tilton, New Hampshire.
As part of this vocational partnership, the students intern at the restaurant's Tilton location one day per week. Each week, the boys are responsible to prepare for their shift by organizing their uniform, tidying up their appearance, and being ready in order to be on time for work. During their shift, they practice important vocational skills, such as modeling acceptable work behavior, paying attention to detail, learning independence to complete assigned tasks, working cooperatively with coworkers, providing excellent customer service and problem solving. These are real‐world skills that they can use throughout future employment.
"Spaulding Youth Center is deeply appreciative of our growing partnership with the Taco Bell of Tilton," said Susan C. Ryan, President & CEO of Spaulding Youth Center. "The goal of vocational opportunities like this one is to foster independence and self‐confidence as well as to develop valuable skills they can transfer to their future. Witnessing the personal growth and success earned through this internship by these two students is priceless!"
Spaulding Youth Center is looking for additional vocational partnerships with local companies and organizations. To learn more about how you, your organization or your business can be a part of creating similar positive vocational experiences for Spaulding Youth Center students, please contact Cheryl Avery, Director of Development and Community Relations at 603‐286‐8901 ext. 107 or cavery@spauldingyouthcenter.org.
About Spaulding Youth Center
Spaulding Youth Center is a leading provider of services for children and youth with neurological, emotional, behavioral, learning and/or developmental challenges, including Autism Spectrum Disorder and those who have experienced significant trauma, abuse or neglect. Services include academic, behavioral health, residential, foster care, health and wellness and family support. Spaulding Youth Center is a tax-exempt 501(c)(3) nonprofit. For information about Spaulding Youth Center, visit www.spauldingyouthcenter.org.